Our Services
Serving Ocean County
Martinez Tree Service, LLC in Lakewood, NJ is committed to delivering a positive customer experience for all. When you need tree trimming or landscaping services for a competitive price, call 848-222-9909. We are thrilled to meet you and discuss your needs in detail.

* Tree Services
* Tree Removal Services
* Tree Trimming Services
* Stump Grinding Services
* Stump Removal Services
* Landscaping Services
* Landscaping Services
* Bush Removal Services
* Shrub Removal Services

About Us
Tree Services Jackson Township NJ
When hiring a tree company to get your trees in line and in fantastic shape, turn to Martinez Tree Service, LLC located in Jackson, we used to be in Lakewood, NJ. We provide affordable tree service to the Ocean & Monmouth region. Our insured staff is backed by nine years of experience and is happy to handle your stump grinding, and tree trimming.

We provide a full sweep of services including tree removal, stump grinding, and shrub removal. Our bilingual staff is happy to assist you with your dire tree concerns. Whether it is a tree trimming, stump removal or bush removal you need, we are happy to help. We have the best equipment and experience on hand to expedite your service. Our goal is to deliver exceptional service for an unbeatable rate.

At Martinez Tree Service, LLC in Jackson NJ, no job is ever left incomplete. We know what it takes to fully handle your service whether it is a tree removal or landscaping installation.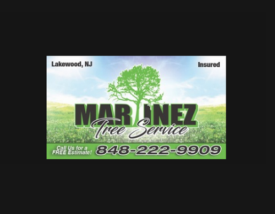 Tree Services Jackson Township NJ
---
https://treeservicelakewoodnj.com
Business Hours
Mon
7:00 AM - 7:00 PM
Tue
7:00 AM - 7:00 PM
Wed
7:00 AM - 7:00 PM
Thu
7:00 AM - 7:00 PM
Fri
7:00 AM - 7:00 PM
Sat
7:00 AM - 7:00 PM
Sun
Closed
Payment Methods
Master Card, VISA, American Express, Discover, Check, Cash